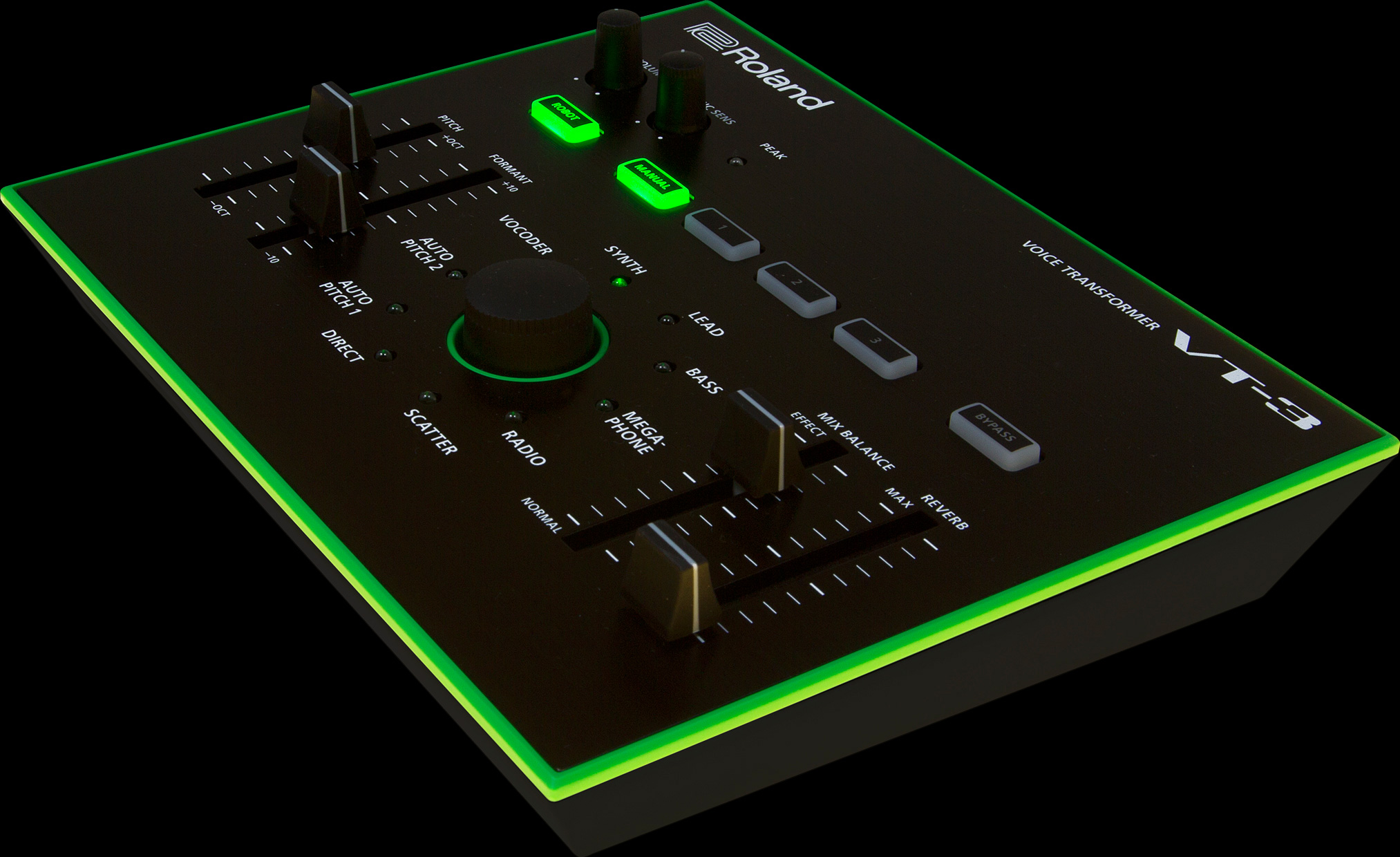 Vokal yang diproses secara berlebihan biasa terjadi pada musik elektronik saat ini, namun menghasilkan efek ini dengan mudah dan mereproduksinya menjadi tantangan —sampai sekarang. Dengan Transformer Suara VT-3, Anda dapat dengan lancar mengubah nada dan forma secara real time untuk mengenalkan suara vokal yang diproses dengan sangat banyak ke studio Anda. Trek dan pertunjukan panggung tanpa kerumitan. Selain itu, VT-3 terlihat hebat dan bekerja mulus dengan produk lain di seri AIRA.
Menciptakan suara vocal berat secara real time
Kontrol halus dengan mempersembahkan slider Pitch and Formant
Reverb besar dan slider Mix Balance
Simpan tiga pengaturan favorit untuk instant recall
Hubungkan footswitch opsional untuk kontrol tambahan dalam pertunjukan live
LED pure green dan kontrol lit menyala untuk visibilitas yang besar
Konstruksi ringan dan tahan lama untuk kemudahan portabilitas
Jack combo Standard XLR/TRS (dengan phantom power) dan jack mic 1/8 inci (dengan plug-in power)
Output stereo dapat dikonfigurasi sebagai channel mono wet/dry yang terpisah
Built-in USB Audio Interface dengan loopback recording untuk vocal overdub pada lagu yang ada
Sangat canggih untuk podcast dan live Web streaming
Didukung oleh USB bus atau adaptor AC yang sudah termasuk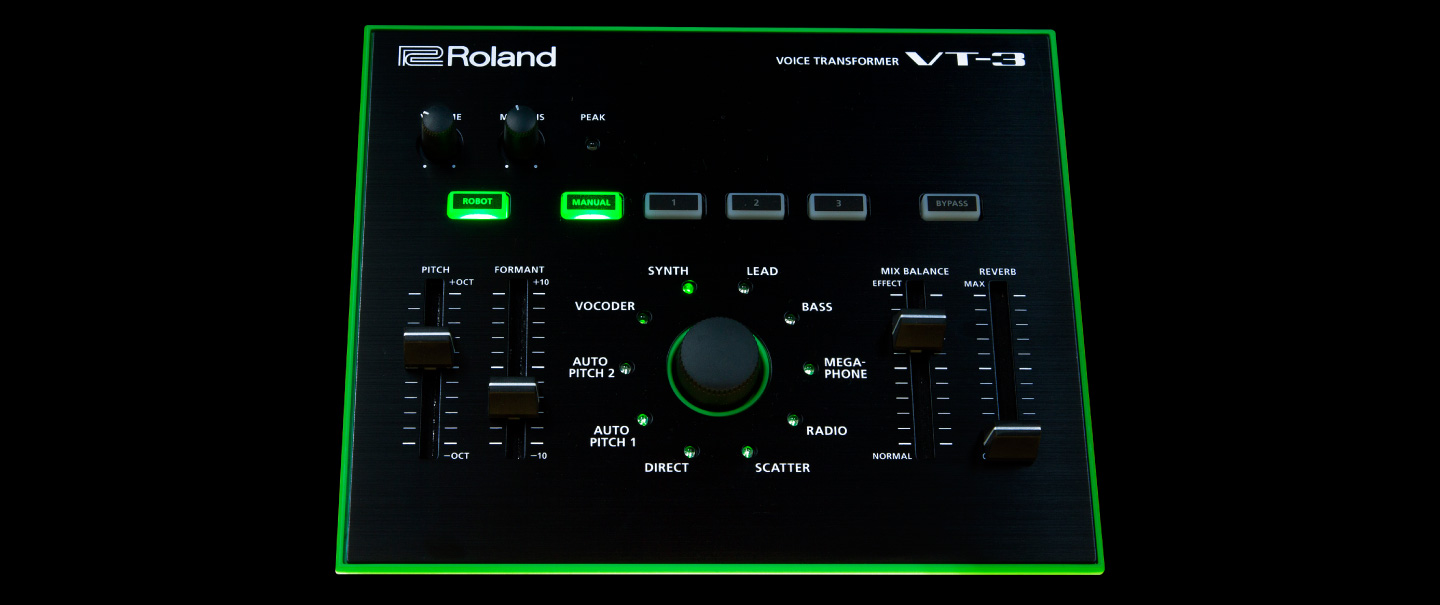 Perubahan Total
VT-3 bukan hanya untuk suara robot (walaupun kita benar-benar menyetujui suara robot). Ini juga memiliki kekuatan untuk mengubah suara Anda menjadi synthesizer, synth bass, suara hard-tuned dan lo-fi, dan banyak lagi. VT-3 juga bisa halus dan musikal, dengan built-in reverb, kontrol fader halus / kering, dan bypass instan.
Ubah suara Anda dengan tipe-tipe karakter yang berbeda:
Suara pop dan elektro dengan dua efek Auto-pitch yang khas
Buat sound Vocoder VP-330-style tanpa perlu keyboard
Fungsi Scatter untuk efek glitchy yang terdengar seperti sesuatu yang rusak (dalam cara yang baik)
Banyaknya karakter lo-fi dengan pengaturan Megaphone dan Radio
Suara terdengar sintetis dengan tombol Robot
Pengaturan synth, Lead, dan Bass untuk synth-synth yang bisa anda nyanyikan
Kontrol Smooth
Dibangun untuk kreatifitas speed dan live performance, membuat VT-3 menjadi suatu alat yang patut anda mainkan. VT-3 memiliki fitur spec dan sturdy berkualitas tinggi, kontrol lit menyala yang sangat mudah digunakan. Berbagai kontrol dan fungsi sangat smooth dan cepat, tanpa popping, clicking atau isu latency yang tak perlu anda khawatirkan, bahkan ketika berpindah preset atau mengubah karakter suara. Beratnya kurang dari dua kilogram dan cukup kecil untuk ditempatkan kedalam tas, sehingga anda dapat menggunakan VT-3 di mana saja.
VT-3 Version 1.1 New Features
Backup and Restore
Mengatur preset dengan proses backup and restore yang mudah melalui USB.
Tingkatkan Playability
Memory Tambahan — User preset telah digandakan menjadi enam lokasi transisi.
Level Karakter — Level Volume pada masing-masing karakter cocok untuk transisi yang smooth.
USB MIDI — Pitch kontrol pada karakter suara, meliputi vocoder, dengan MIDI keyboard eksternal.
Low Cut Filter — Memotong low frequency sensing untuk meningkatkan performa karakter Auto-Pitch.
Noise Gate — Gates noise untuk mengurangi perubahan feedback atau kejernihan sound.
Peredam USB — Sesuaikan level audio melalui USB.
Tingkatkan MIDI
Perubahan Program — Ubah memori program dengan pesan kontroler MIDI.
Perubahan Kontrol — Fungsi kontrol VT-3 dilengkapi dengan MIDI pesan ubah kontrol.