History of Roland Digital Piano
THE EVOLUTION OF THE
DIGITAL PIANO THROUGH
ROLAND INNOVATION
Evolusi tanpa batas
Pencarian Roland untuk membangun piano elektronik mutakhir telah dimulai setelah perusahaan ini didirikan pada tahun 1972. Saat itu, sebagian besar teknologi tidak ada, jadi kami harus menemukannya. Kembali ke awal, mencakup pengembangan semua piano combo elektronik Jepang pertama, keyboard touch-sensitive pertama di dunia, dan bahkan mengembangkan bahasa MIDI yang memungkinkan semua instrumen musik elektronik saling berkomunikasi satu sama lain. Sementara itu, kita telah memperbaiki suara dan sentuhan untuk kepuasan di atas panggung dan kebutuhan berlatih untuk pianis kelas dunia. Kami juga berusaha untuk merancang piano yang terlihat sebagus suaranya; Dari piano grand dan upright klasik, ke piano kontemporer dengan kabinet bergaya flat-top atau bodi metalik mutakhir. Meskipun tidak ada akhir untuk menguasai seni pembuatan piano, kami sangat senang melihat apa yang ada di depan.
'73
Introduction of the EP-10, Roland's first all
-electronic, oscillation-based combo piano
In this era, oscillation of the tone/bar and lead with electricity was the mainstream in electronic piano technology, and the introduction of the all-electronic, oscillation-based piano engine was a big leap forward.

'74
The debut of the EP-30, the world's first electronic piano with a touch-sensitive keyboard
The touch-sensitive keyboard — one that senses playing velocities from soft to hard — is standard technology in today's digital pianos. However, in the early days of electronic piano technology, it was a groundbreaking advancement.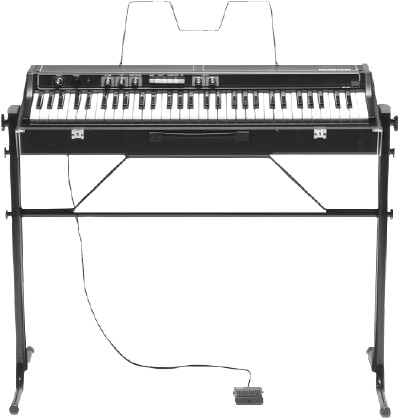 '83
The HP-300 and HP-400, the first digital pianos with MIDI
In 1983 Roland co-developed the MIDI specification, which enabled electronic musical instruments from different manufacturers to communicate with each other. The HP-300 and HP-400 were the very first digital pianos to feature this revolutionary technology, letting their owners explore a myriad of creative possibilities. The two-piece cabinet design, comprising main body and stand, was another innovation that quickly became a mainstream trend.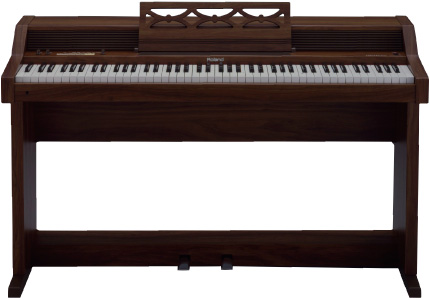 Innovation Doesn't
Happen Overnight
Having knowledge and
experience in both music and
technology through years of
painstaking research and testing,
Roland develops digital pianos
powered by innovative
technologies for the ultimate
playing experience.
'86
Introduction of the RD-1000 Stage Piano
The RD-1000 was the most advanced digital piano of the time, built around Roland's advanced SA (Structured Adaptive) technology for a more authentic piano sound. Just a year later, this pro-focused technology was also available in Roland's home pianos, so you could enjoy the same piano sound used by the world-famous artists who made the music you grew up with. It's a tradition that continues to this day with our current RD stage pianos.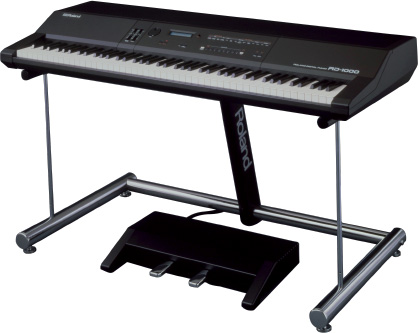 '87
The debut of home pianos equipped with the SA sound engine (HP-5600S/HP-5500S/HP-4500S/HP-3000S)
Roland brings its advanced SA technology to the home market.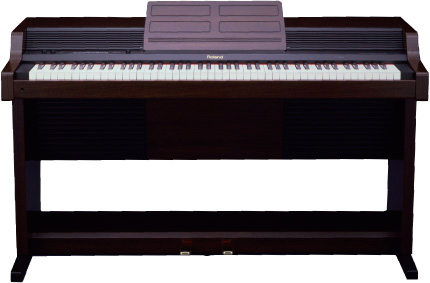 Blurring
the Lines between
Digital and Acoustic
Digital pianos were previously
considered as affordable alternatives
for practicing at home, but Roland
hosts concerts with world-class
pianists and full orchestras,
showing the world that it's a truly
authentic and honorable
musical instrument.
'91
Introduction of the FP-8, a portable piano with 88 keys
The fashionable red/white/gray color scheme was an instant success, as was the hammer-action keyboard. Incorporating a key mechanism with only a weight hammer and no springs, this keyboard's feel rivaled the natural touch of an acoustic piano.

'92
The debut of the HP-7700, a digital grand piano
This instrument combined the compact size of digital piano electronics with the majestic and elegant look of an acoustic grand.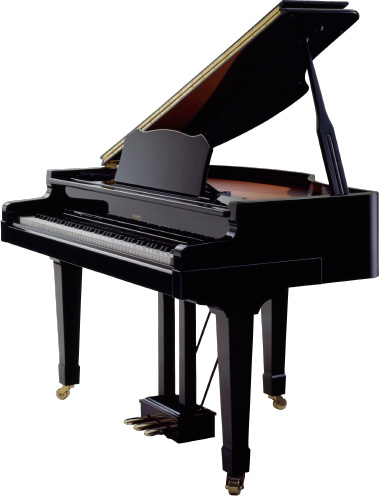 '01
The introduction of the HPi-5 with DigiScore, an LCD built into the music rack
The groundbreaking DigiScore feature introduced a new way of practicing the piano, with a notation display (with automatic page turning) for the built-in piano songs, commercial music data, and song lyrics. It also displayed the user's playing as notation in real time.
'03
The introduction of the stylish DP-900 Designer Piano
With a depth of just 30 cm and a flat top with the lid closed, this simple and elegant piano instantly became a big hit.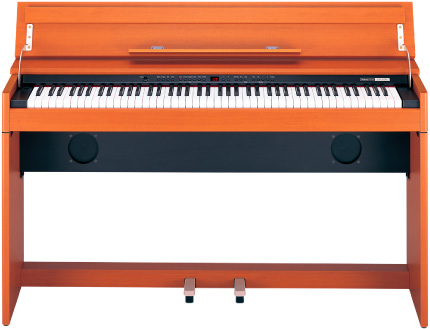 Capturing
Every Nuance
When sampling technology was at
its peak, Roland meticulously
captured every nuance of a grand
piano in a custom-made anechoic
chamber using multiple microphones
at different angles and distance.
'05
The RG-7 captures the form and sound of an acoustic grand piano
Equipped with the new 88-Key Multi-Sampled Piano Engine, the RG-7 captured the unique, expressive sound of every note on an acoustic grand piano. The instrument was also equipped with a "moving keys" feature that automatically moved the keys as the built-in demo songs played.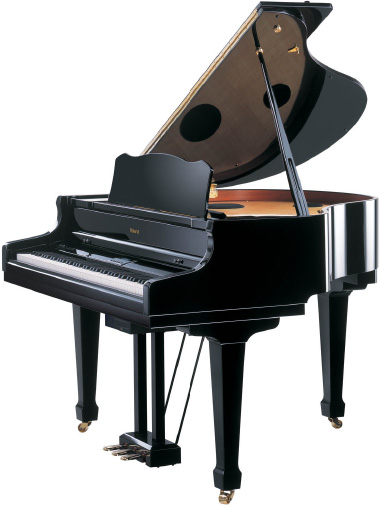 '09
The revolutionary V-Piano is born
Roland reinvents piano technology with the V-Piano, a modeling-based digital instrument that uses no sampling whatsoever. With its groundbreaking "living" piano engine, the V-Piano is able to create the sounds of nearly any piano, both real and imagined.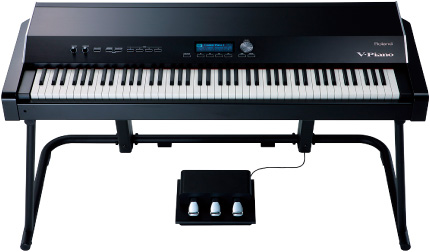 The Professional's
Choice
Whether it's classical, jazz, rock,
or pop, world-class pianists play only
the finest instruments that respond
accurately to their technique.
That's why you'll see a Roland
digital piano being played by
many top professionals.
'11
Roland introduces the V-Piano Grand
This exquisite instrument blurs the line between digital and acoustic worlds. Stepping up from the previous generation, the V-Piano Grand's sound generator has been further refined to create the world's first "stringless acoustic piano."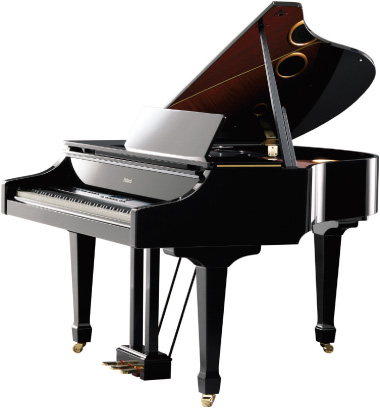 '15
Roland unveils the next generation digital piano, the LX-17
From the sound to the keyboard to the tall upright cabinet housing a remarkable eight-speaker, multi-channel sound system, the LX-17 is a piano crafted for the connoisseur. With a brilliant mirror-like sheen and graceful design, this gorgeous instrument brings the majestic look of a high-end acoustic piano to your home.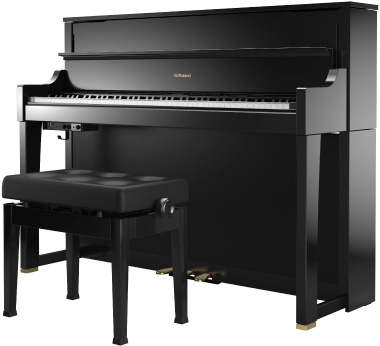 Unleash
All of these advanced
technologies come down to one
thing – the music. Whether you just
picked up your first piano, or have
been playing for years, we hope
that you enjoy making music and
can unleash your creativity
with a Roland digital piano.